Frenkee's Safe
contracts always handy and under the best conditions

Save your contracts in Frenkee's Safe.
Frenkee digitizes them and monitors their validity.
Better offers are automatically calculated for insurance.
Correct settings are checked for life insurance.
Rates are monitored for loans and refinancing is offered on time.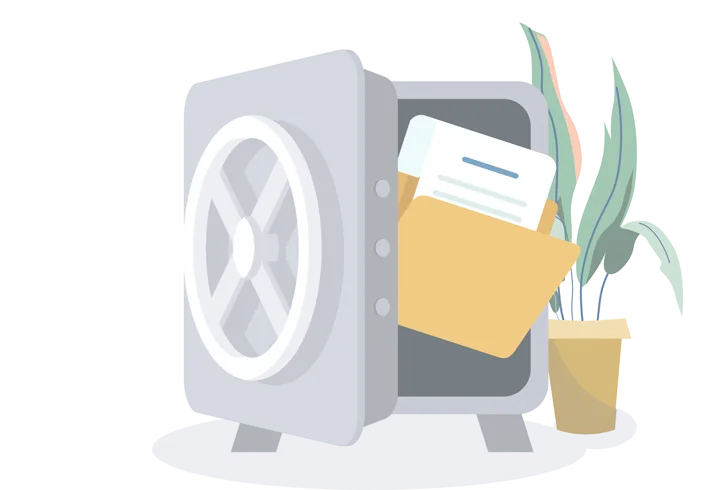 How does Safe work?
Register for Frenkee's Safe.
Choose which contract you want to upload.
Upload contracts as PDF, or take a photo with your phone, for example.
Sit back and let Frenkee take care of everything for you.
---
Why use a Safe for contracts?
Paper becomes digital
After uploading, Frenkee digitizes your contracts and makes important parameters clear so you can understand them.
Contracts available anytime and anywhere
No more searching through drawers or customer accounts. Everything in one place, smartly, digitally, and ecologically.
Monitoring validity and anniversaries
Frenkee monitors the validity of all contracts and recommends extensions or better offers in time.
Automatic setting check
Frenkee checks the contract settings for life insurance, offers better or cheaper offers for insurance, monitors rates for loans, and timely offers refinancing.
Save without being bothered by call centers
Frenkee checks prices, terms, and rates every day so you always see in Safe where you can save or improve. Then you can click on the offer that interests you and sign up.
Why upload your contracts to Safe?
You'll get your insurance and loan contracts in order along with other common contracts which you usually keep in drawers or shelves. Frenkee digitizes them, so you can immediately see what you have and what it means. Monitoring their validity and offering an extension or better offer at the right time.
What are the main advantages of Safe?
Once you upload a contract, Frenkee will take care of everything for you.
Every day, it checks prices, terms, and rates on the market and offers you a better or similarly good, but cheaper option from trusted institutions at the right time.
No one bothers you, you manage everything yourself in Safe.
And if you need help, there are Frenkee's flesh-and-blood specialists to help you with your contract or problem.
Frequently Asked Questions
Jsou moje data ze smluv u Frenkeeho v bezpečí?

Co když nechci, aby mi Frenkee smlouvu zkontroloval a chci si ji jen uložit?

Kam mi přijde upozornění na novou nabídku v Sejfu?

Jak projevím zájem o nabídku, kterou pro mě našel Frenkee?

Co když už smlouvy u Frenkeeho mít nechci? Smažete je?